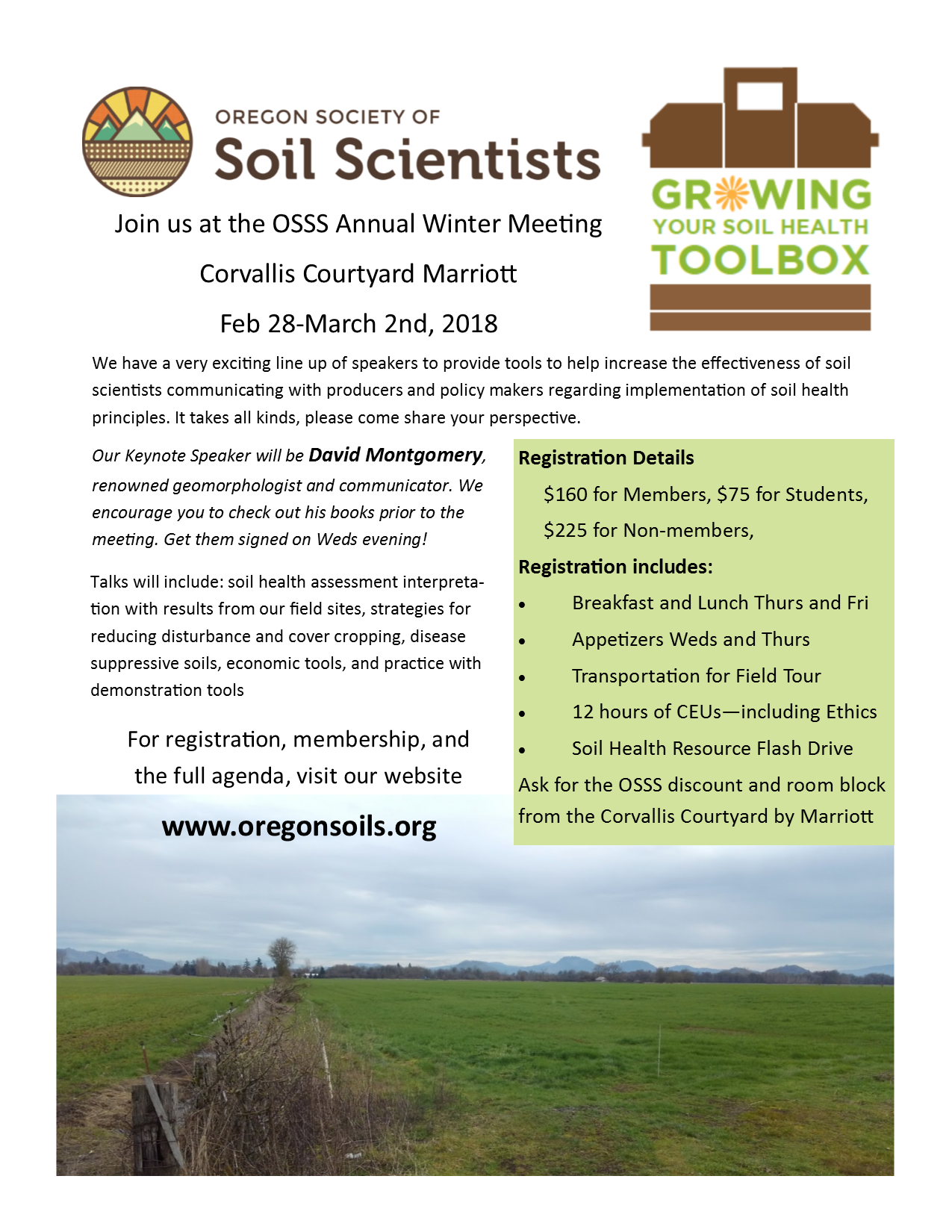 Help us advertise wherever you see other soil scientists, please open this file and print: Winter Meeting Flyer 20180110
All registration prices will go up by $25 on Feb 15, register today!
What to Expect for the OSSS Winter Meeting
Evening of Feb 28th- 3:30 on March 2nd in Corvallis, OR
This meeting will be focused on bringing together people from the various fields of soil science to discuss the research into and application of soil health and how we can serve to communicate this information effectively with land managers and policy makers.
Feb 28th, in Corvallis, after our Annual OSSS Members Business Meeting (5:00pm) we will kick off the soil health discussion with a Keynote Public Address from Dr. David Montgomery. Dave is an internationally recognized geologist and communicator whom you may recognize as the author of books such as Growing a Revolution: Bringing our Soils Back to Life, The Hidden Half of Nature: The Microbial Roots of Life and Health and Dirt: The Erosion of Civilization. After the talk there will be time for a book signing and mix-and-mingle for all who attend this free public talk.
On March 1st we will meet indoors to dig into soil health topics considering how biology impacts every aspect of a soil function. We will build our tool box of strategies to help producers adopt conservation ag practices by discussing; interpretation of soil health test results, cover crop blends for specific management goals and climate challenges, strategies to reduce disturbance, and tools to assess long-term economic assessments for producers who are managing for soil health. I expect one of the strengths that our society can bring to the soil health conversation will be regarding the range of characteristics of a soil series and how soil health practitioners can (and should not) use soil mapping data to draw inference. We are looking for debate, discussion, and information from multiple perspectives.
The evening of March 1st we are planning an inclusive poster session (during happy hour). Students across the NW who study soil science will be invited to compete in a poster session with $300 in available prize money (not all topics will be on soil health). We also really want to get as many project leaders involved as possible. If you are working on a soil health project we would love it if you could share your data/process. Even if you are just starting or in the middle, please come present, we want to use this as an opportunity to share knowledge. The posters will be up for at least 2 hours and each presenter will be at their poster for 1 hour so that they can also see what else is going on.
On March 2nd we will head out to the field to continue the conversation with local cover crop producer Don Wirth from Saddle Butte Ag. We will have pits dug in side-by-side fields with very different management types. One has been in no till, leaving residue on the field for over 20 years and the other is a more conventional system that tills and removes biomass each year. We will also have a chance to view a pit across the field in a non-farmed area. We are working with an OSU Crop and Soil Science student for an internship in which he has sampled the soils from our filed tour sites and will complete a soil health assessment for each soil. While we are in the field we will have the opportunity to discuss the management practices, get in the soils pits, and discuss the data. If that is not enough Nick Sirovatka will have the mobile soil health demonstration unit. We will have a chance to learn how to use these tangible tools that make a great impact on producers. When they see the difference in infiltration, filtration, ag stability, and penetration, they start to understand and we start to make a meaningful impact.
CEUs, including Ethics, will be available. OSU Extension will be encouraged to use this as professional development. Check out the full agenda
We hope the discussions among soil scientists in our region will start to get everyone on the same page regarding definitions, tools, approaches, and data interpretation so that we can be effective in our conversations with producers.
To get ready for the meeting we recommend clicking on any of the following links:
The Hidden Half of Nature: The Microbial Roots of Life and Health
Growing a Revolution: Bringing Our Soil Back to Life
OSU Fertilizer and Cover Crop Calculator
If you are still thinking about the fun from our Summer Tour and would like to see or post pictures, you can visit our google photo album: