The Oregon Society of Soil Scientists Summer Tour will be based at Wallowa Lake, September 10-12. Join us in NE Oregon. Three days of collegial soil discussions and discovery. Transportation is available for those that do not want to drive and the lodging at the Wallowa Lake Camp includes meals and comfortable bunkhouse rooms. Meal packages are possible if you want to stay in Joseph just a few miles away.
The Tour will visit the Zumwalt Prairie where there are a variety of prairie soils that we will explore in depth (pun intended), hike on glacial moraines, interpret soil development, view spawning salmon, discuss the terrior of barley and brewing as well as enjoy the spectacular scenery of the region.
The Tour, Monday to Wednesday is preceded by the Hells Canyon Mule Days and followed by the Wallowa Arts Festival. So you can make this a multi event road trip if you choose. There will be good food, great events and a relaxing venue. Hope to see you there.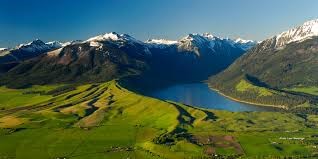 We are helping to coordinate a non-OSSS "Quest for a Gelisol"
Pat O'Grady has invited us to Rimrock Draw Rockshelter for our expertise during their archaeological dig!
If you are still thinking about the fun from our Summer Tour and would like to see or post pictures, you can visit our google photo album:
Let us know if you have an event that you would like us to post.