Our 2023 Summer Tour Registration is now closed, see you in the Ochocos!

If you have questions regarding registration please reach out to our President at osss.pres@gmail.com
The 2023 Summer Tour is taking place in the Ochoco National Forest September 8-10!
Check out our tentative summer tour agenda HERE!
---
Past Events
Check out our past events here, and take a look at the map below to see where we have hosted previous meetings and tours.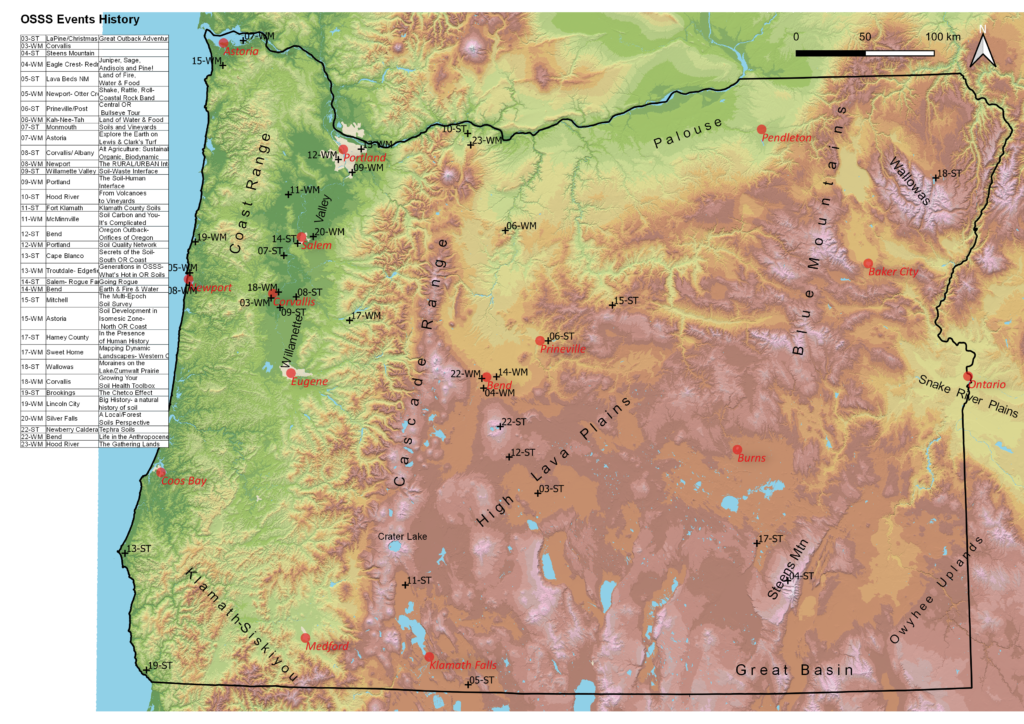 Here is a map of locations and themes of previous Winter Meetings and Summer Tours! Where will we go next? Click here for a larger PDF version of the image at the left.
---
---
Oregon State University Extension is launching the first offering of Agronomic Soil Testing in Oregon, a 6-week online Professional and Continuing Education (PACE) course for agricultural professionals. Soil Fertility Specialist, Dr. Amber Moore, has worked along with her staff and a large team of other OSU Extension faculty to provide you with general knowledge and cutting edge insights on agronomic soil testing methods specific to Oregon soils, climate, crops, and cultural practices. Registration is now open and can be accessed by visiting the course webpage. Details about course topics, dates, and registration are on the poster below. Please reach out to me (Eliza Smith, eliza.smith@oregonstate.edu) with any questions.
---
2020 World Soils Day: A Diverse Soil Future:
2022 Hybrid Winter Meeting minutes
2021 Virtual Winter Meeting minutes
---