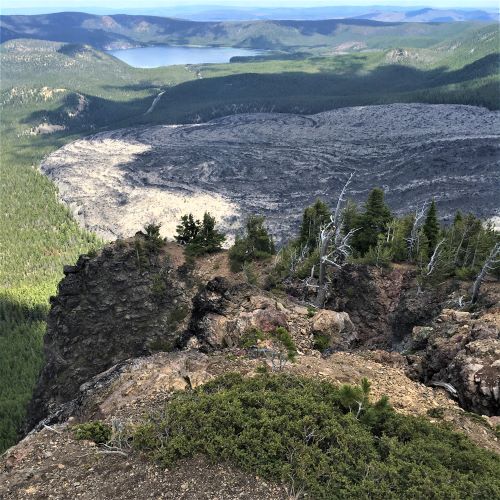 The 2022 Summer Tour will take place at Newberry Caldera:
September 8th-9th!
We've got an exciting two-day tour planned that will introduce you to Newberry Volcano's complex volcanic history and its geologic significance on the central Oregon landscape. We'll see some beautiful soil profiles formed in numerous tephras from eruptions that have occurred between 80,000 and 1,200 years before present, and will discuss the unique management implications of these individual deposits. We'll also see and discuss evidence of other large-scale geomorphic processes (Flooding! Glaciation! Landslides!).
See the draft agenda here for more information. 
REGISTRATION:
GROUP SIZE WILL BE LIMITED TO THE FIRST 30 REGISTRANTS! SECURE YOUR SPOT TODAY!
See registration links at the end of this webpage. We have two registration levels for this event: regular and student/volunteer.
The

regular

registration is $95/person, and will cover your meals, give you access to the campground and carpooling opportunities.
The

student/volunteer

registration is $55/person; it will include everything included in the regular registration but will come with some added responsibilities during the event. We will be contacting the volunteers and students to sign up for shifts such as helping to set up or break down camp, assisting with meal prep and cleanup, and helping maintain the shared camp facilities such as the toilets and handwashing stations.
When you register be sure to fill out the registration form with details such as dietary restrictions, an emergency contact, and whether you would be interested in carpooling to the event (we will do our best to connect folks interested in carpooling). 
CAMPING:
Our base camp will be at the Hot Springs Administrative Campground in the Newberry Caldera. This campground is no longer open to the general public and is NOT signed. When you pass the entrance to East Lake Campground (which will be on your left, lake-side), the Hot Springs Campground will be immediately on your right. We'll have a sign to point the way. There will be potable water and primitive pit toilets available, but there are no picnic tables or other facilities. There is no electricity or other hook-ups. NO FIRES WILL BE PERMITTED. Small- to mid-size camping trailers can be accommodated (and perhaps smaller RVs), but larger RV's are not recommended. This will be a primitive camping experience—please bring everything you'd normally bring for car camping in an undeveloped area. Also, I'm sorry to report that there are no hot springs anywhere near the Hot Springs Campground. 😊 More details will follow for those who register.
MEALS:
Breakfast, lunch, and dinner will be provided on Thursday and Friday, and we'll be providing Wednesday night dinner for those who arrive in time (seven meals total included in your registration). We strongly encourage you to arrive on Wednesday night to simplify logistics and carpools. This year, we're asking everyone to bring a set of dishes and silverware to use for your provided meals. This will simplify clean-up for the organizers, and reduce the amount of waste we generate. Bring your dishes to each meal and take them with you and clean them afterward. Thanks for your help with this! If you plan to bring a family member who's not attending the tour itself, we can include them in our meal planning. Just plan to bring a few bucks to contribute to the food fund, and let us know when you register. 
TRANSPORTATION AND ACCESS:
We'll have two 12-person vans available for transport. If you're comfortable riding in the van with others, PLEASE DO SO. Minimizing the number of vehicles we take will ease our logistics considerably. MASKS WILL BE REQUIRED FOR ALL VAN PASSENGERS. If you're not comfortable van-pooling due to COVID concerns, we'll arrange a limited number of additional carpools to accommodate folks' needs. 
A Northwest Forest Pass or $5 fee will be required at the Newberry National Volcanic Monument entry station when you arrive. Please be prepared to cover this cost. The same will likely be required for any personal vehicles taken to the Lava Butte site on Thursday. 
COVID PRECAUTIONS:
COVID mitigations may change as community levels fluctuate and the pandemic evolves. The board will decide if additional measures are needed as we get closer. Please be respectful of your colleagues and friends and adhere to what's asked of you. We're all in different places with our own personal comfort levels and health concerns, as well as those of family members in our care. Be prepared to wear a mask when carpooling. Respect personal space. Wash your hands (we'll have hand-washing stations available).  
If you have any questions that aren't addressed here, please reach out to Sarah Hash at sarahjanehash@gmail.com or (276) 356-8335. We'll share more detailed information and last-minute reminders about a week ahead of time. 
Please fill out the survey (linked at the end of checkout) to provide your contact information, diet, transportation, and emergency contact if attending in person. If you are purchasing registration for someone else, please provide the attendee information. If you are purchasing more than one registration, please fill out the survey for each attendee.
Registration will be limited to OSSS Members from Aug 1st-8th, and non-member registration will begin August 9th
Regular Registration
Volunteer/Student Registration